Historical Highlights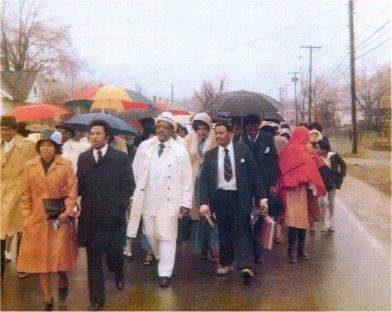 Elder George L. Wagnor, his wife Emma, Mrs. Jennie Crater, Mrs. Hattie Evans Greene, Mrs. Nellie Mebane, Mrs. Bessie Jenkins, and Mrs. Jeffries, founded New Covenant Holy Church in 1924. One room of Elder Wagnor's home was consecrated for worship services.

The church merged with Rev. and Mrs. James Alfred Herbin, and Mrs. Mattie B. Herbin Bowes and was called "The Holy and Sanctified Church." The church relocated in the Richmond Hill Section, Route 3, or The Big Falls Road, later renamed Apple Street. As time passed, the Congregational Christian Church (now Ebenezer United Church of Christ) built a new edifice and "The Holy and Sanctified Church" purchased their old church.

When Elder and Mrs. Wagnor, Rev. and Mrs. James left the church for the other fields of Christian service, Bishop M. K. Greene, Sr. became the leader. His son, Rev. Lonnie J. Greene followed him as a pastor. Mrs. Cenith Shoffner, Deacons Sylvester Enoch, David Daye, Levi Pinnix, and Willie Herbin were added to the church's roll.

The church was destroyed by fire in 1934 and rebuilt on Richmond Avenue. Rev. J. C. Hayes served as interim pastor during the late 30's until Rev. M. K. Greene, Jr. was appointed. Oscar Cheeks, and Deacons Odell Francis, Eddie Enoch, and Douglas Bowes joined the church at this time.

Former pastors included the following: Bishop M. K. Greene, Jr., Rev. W. H. Hayes, Rev. J. B. Brison, Bishop O. L. Conyers, Bishop J. C. Street, Bishop H. W. Fields, Bishop Elroy Lewis and Ralph E. Love, Sr. New Covenant has a unique gift of producing bishops within the Holy Church.

The church was remodeled under the pastorate of Bishop Lewis and the youth membership increased greatly.

During the times between the pastorate of Bishop Lewis and Bishop Love, Rev. Eugene Gant, Evangelist Annie P. Graves, and Rev. Pickard shared the ministerial repsonsibilities.

Elder Ralph E. Love Sr. (now Bishop) was appointed pastor. Under his leadership Andrew Cohn and Ralph Miles were ordained as deacons. A parcel of land was purchased on Apple Street of about 4.25 acres during this administration.
In 1975 Elder Harry L. Cohen (now Bishop) was appointed pastor. Under his leadership Booker Pennix, Larry Johnson, James A. Leath, Jr., Artemus Lynch, and Selandar Dunn were ordained as deacons.

In 1977, a new edifice was built. The mortgage was burned during the Homecoming of October 1985. A church bus and van were purchased. The adjoining property and house, now used as a parsonage was also purchased.

A Day Care Center was purchased from Cohen-Love Development Center that was built in 1989 to accommodate 50 children. The church purchased a second van to be used by the BCS, Choirs, Church and Day Care Center. The Joint Boards of the Church incorporated the Day Care Center in 1992. In 1993, an Official Board was organized to better serve the church. Those appointed to the board were Deacons Larry Johnson, Chairman, David Daye and Eddie Enoch, Trusties Eldridge Love, John Clay, Carl Blackwell and Sister Patricia M. Durham, Recording/Financial Secretary. The church was Incorporated in 1994 by this administration. Trustee Jeff Evans was added to the board in 1996.

In 1996 the pastor realized a need to train men and women for the Deacon Ministry of the church and formed the Minister's Of Mercy. Included are Mr and Mrs. LeGrande Cohen, Mr. and Mrs. Jeff Evans, Mr. and Mrs. Reginald Lathan, Mr. and Mrs. Tim Poteat, Mr. and Mrs. James Strickland, Mr. and Mrs. Roland Thompson and Mr. and Mrs. Earl Williamson.

During the General Convocation of the Original United Holy Church International, Inc. May 1997, our pastor was consecrated to the office of Bishop.